JKB CONSULTING
Your consultant for large-scale events
Tailor your event to your target audience and partners
JKB CONSULTING imagines and organizes your events according to your means and objectives. Our team will support you throughout the creation of your event, providing creative ideas and artistic entertainment, and coordinating the various partners and event service providers. JKB CONSULTING also brings your target audience together around an event via its extensive network: business leaders, architects, the professions, protocol, the media, etc.
International Fairs & Exhibitions
International exhibitions
B to B meetings
Inaugurations, conferences, awards ceremonies
Corporate events (business dinners & cocktails)
Cocktail parties and gala dinners (weddings)
Product launches and vernissage
Fashion shows, art exhibitions, trade fairs
Corporate receptions: seminars
Training for participation in trade fairs and exhibitions
Search for venue(s) and sponsors
Coordination between all suppliers and partners
Qualified suppliers (wine, champagne, lighting, audio-visual, entertainment, music, equipment, furniture, hostess, etc.).
Logistics: equipment and technical management.
Set-up of audiovisual resources for communication
(photographer, videographer, drone, etc.)
Event communication (media and digital)
Public relations
Organization of and participation in international trade fairs
Representation at various local events
Choose communications that are directly relevant to your target audience
Our team offers you relevant off-line and on-line communication tailored to your corporate strategy. Our relationships with all regional, national and international media guarantee you accurate, targeted communication.
Daily/weekly press
Magazine and trade press
Online media
Local and international media
National television
Billboard advertising
Street marketing
Press release writing
Define and convey your identity via the Web
A JKB CONSULTING expert will advise you throughout your project, helping you build your brand identity and define the values you want to convey. Our developer and web designer can create dynamic, modern showcase or e-commerce sites.
Our website design skills
Management and creation of showcase or e-commerce sites
Drafting of specifications
Integration & development
Graphic charter design
Custom website design
Definition of site ergonomics
100% responsive website design: adaptable to all media.
Hosting and launch
Strategic recommendations
Website maintenance.
Promote your image and raise your profile
Our JKB CONSULTING team takes care of your company's visibility on the Internet. Our main role is to raise your profile via targeted email campaigns, SMS campaigns and to manage your social networks. What's more, our audio/video designer creates promotional animations and videos to generate qualified traffic.
Our community management skills
Animation of your social networks: Facebook, Instagram, Linkedin, Twitter, YouTube
Definition of a differentiation strategy and content creation
Identification of social networks & monitoring
Account optimization
Targeting and acquisition of qualified fans
Advertising campaign management
Analysis & recommendations.
Our graphic design skills
Definition of a theme and visual for the charter.
Graphic design and layout: Illustrator,
Photoshop & Indesign
Feed definition
Creation of original, creative and intelligent content: photos, GIFs, illustrations, creative stories.
Photo retouching
Our video story & interview skills
Promotional video: story telling + shooting + editing + animation creation.
Design and production of interviews, from scheduling to editing.
Our other web marketing skills
Creation of newsletters: based on the graphic charter.
Sending newsletters to a qualified CSP+ file.
SMS campaign to a targeted file.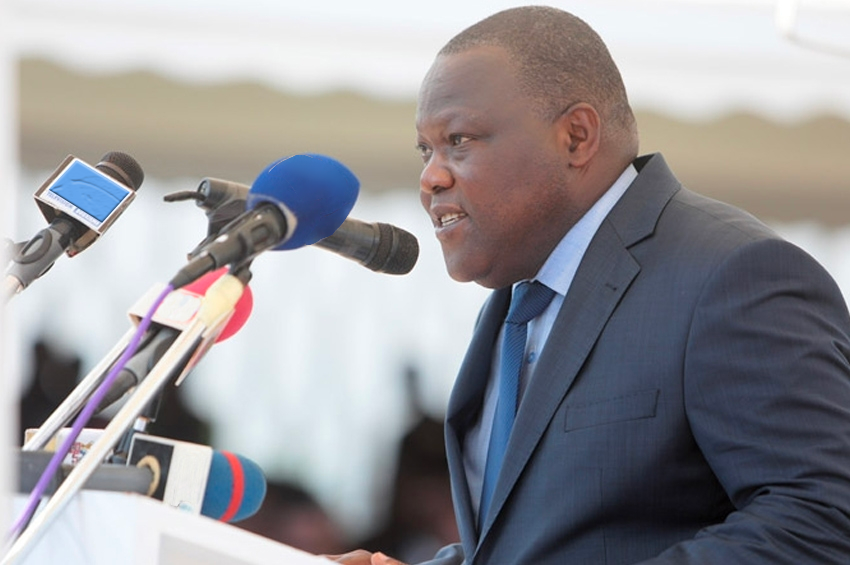 Message from the General Manager
JOHNSON Kuéku-Banka
Promoter and Managing Director of JKB CONSULTING, JOHNSON Kuéku-Banka is a seasoned player in the field of economic and commercial events.
A graduate of the Centre Ouest Africain de Formation et d'Etudes Bancaires (COFEB-BCEAO Dakar) and the World Trade Organization (WTO), he was Director of the Centre Togolais des Expositions et Foires de Lomé (CETEF-LOME) from 1998 until May 2022. In the meantime, he also held the position of Director of Foreign Trade from 2008 to 2010.
With over 25 years' experience in the field of international trade in general, and the organization of international trade fairs, trade shows and universal and international exhibitions in particular, JOHNSON Kuéku-Banka has been the linchpin of the organization of Lomé's international trade fairs and Togo's participation in universal and international exhibitions as General Commissioner in Shanghai in 2010, Milan in 2015, Beijing in 2019 and Dubai in 2020. He was also twice Chairman of the Organizing Committee of the Trade Fair of the Community of West African States (ECOWAS Trade Fair), organized by this institution from 1995 to 2013.
Having retired, he decided to share this wealth of experience through JKB CONSULTING, an agency created in September 2022.
JKB CONSULTING is a global communications agency, specializing in consulting and training in the organization of and participation in trade fairs and exhibitions, as well as the organization of corporate and high-end events.
It also aims to meet its customers' requirements in digital communications, graphic design, website creation, promotional video design and Interview.
To this end, a talented, creative and dynamic multidisciplinary team is on hand to support you.
Our aim at JKB CONSULTING is also to bring a relevant and contemporary look to your company by combining professionalism, know-how, art, modernity and design. In fact, it's to enable our customers to expand their networks.
So don't hesitate to contact us if you'd like to promote your business or product.
JKB CONSULTING, your best partner for greater visibility.
Our team is ready to help you make a success of your events and digital projects.
Request a callback
Fill in the form below and one of our agents will contact you shortly.
You can also send us an e-mail at [email protected]
Schedule a meeting / Call
for all inquiries